Sail San Diego's Whale Watching to New Heights
by our own Capt. Kurt!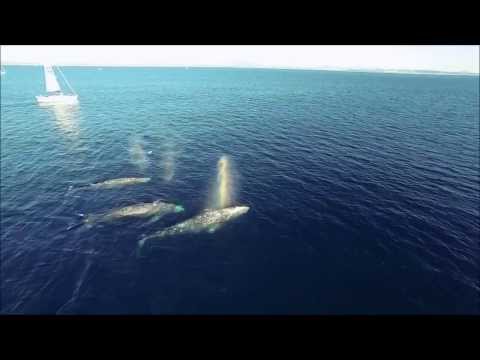 This is an actual video taken by our very own talented drone flyer Capt. Kurt Roll! San Diego whale watching has never been this amazing!
Get out on the water with us-check out our San Diego Whale Watching Schedule – Click Here.
Welcome to Sail San Diego 
Sail San Diego ~ San Diego's premier provider of the most fun & memorable personal sailing experiences possible!
~for over 26 years~
More whales are choosing the coastal route, and perfect weather is helping to make the viewing season one of the best ever!
Gray whale sightings hit record numbers off Southern California
As of 9 JAN 2014
Southbound Today ————— 18
Northbound Today —————- 0
Total Whales Today ————- 18
Southbound Calves Today ——— 2
Northbound Calves Today ——— 0
Season to Date (since 1 Dec 2013)
Southbound ——————– 496
Northbound ———————- 5
Total ————————- 501
Calves South ——————– 7
Calves North ——————– 0
It's unclear how many of the estimated 21,000 Pacific gray whales have already passed Southern California, during what appears to be a slightly early migration from Arctic feeding grounds to Baja California's lagoons.
But because more whales than usual are remaining close to the coast, coupled with several weeks of high visibility and calm waters, sightings are being logged in record numbers and the season could be among the best in the history of commercial whale watching.
It was a record December for the ACS-LA Gray Whale Census and Behavior Project, whose volunteers have been counting whales from the Point Vicente area on the Palos Verdes Peninsula every day during the migration period from December through mid-May since 1984.
There have even been several groups of six, seven, and eight whales passing through, with many of them showing their flukes. We're used to see one, two, or maybe three," said Alisa Schulman-Janiger, director of the census and behavior project. "And many have been very close to shore. It has just been whale after whale." The Preceding excerpts from an  article is on Grind TV by Pete Thomas 1/2/14
The following images are courtesy of Pete Thomas.
Top 10 Reasons to Choose Sail San Diego:
1 ) We have some of the newest most beautiful, spacious, seaworthy boats in San Diego. No small "classic" boats to squeeze you into.
2)  We have over 26 years of sailing experience ~ so you can rest assured that you're in good hands. 
3) Our boats are located at the "mouth of the bay" ~ the ideal place to be if you want the option of a "mostly ocean" experience. 
4) Our captains are some of the best (and most entertaining). They have sailed the seven seas before residing in San Diego
5) Our tours are the perfect length ~ not too short, not too long. There is a reason why Gilligan and the Skipper did 3 hour tours back then.
6) We have thousands of satisfied clients from around the world.
7)  We LOVE what we do and it's reflected in the quality of your experience. 
8) We provide everything you need at sea!  From Hats, Jackets, blankets, To Snacks, Sodas, Beer & White Wine
9) You chart the course! That's right the itinerary is up to you unless you'd prefer the captain do so.
10) We have fixed and flexible departure times!
Well, these are the ~ Top 10 Reasons to choose Sail San Diego ~ for all your adventures at sea but there are dozens more!
We didn't even have room to mention the up-close and personal encounters with dolphins, and sea lions, and whales!
Click here to learn more about our WHALE WATCHING TOURS!  
Whether you're having a corporate event, a family whale watching experience, a memorable celebration, private party, proposal, anniversary, birthday, sailing lesson, or simply the ultimate romantic sunset sail ~ Sail San Diego provides San Diego's finest sailing adventures! 
Call now to reserve an unforgettable tour!  You'll be glad you did! (619) 297-7426 
Don't have time to call? Click below to initiate a reservation request! It's easy!
Happy Sailing,
Your Sail San Diego Family